Savings You Can Count On
At Hess Home Builders, we're committed to building homes and commercial projects that are as energy efficient as they are stylish. That's why we put energy efficiency first as a standard practice .
By thinking through mechanical and HVAC systems at the design phase, using smart, energy efficient materials and ensuring quality sealing and insulation, our buildings represent a great value that will save you money over time.
In order to maximize energy efficiency we've partnered with Resnet, the residential energy services network, to measure and document the energy usage of our Evolve Series of homes. As a nationally recognized system for calculating energy performance, a low HERS score means substantially lower energy costs for homeowners.
HERS scores are calculated by a certified inspector who has been specially trained to estimate energy efficiency and project heating and cooling costs. A few of the areas that they examine include:
Exterior walls, both above and below grade
Floors over unconditioned spaces
Ceilings and roofs
Attics, foundations and crawlspaces
Windows and doors
Vents and ductwork
HVAC and water heating systems
Once the inspector takes measurements and compiles a report, they assign a HERS rating to the home. Check out the chart below to see how one of our Evolve Series homes rates using our standard building practices.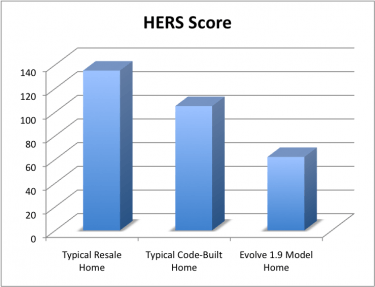 We're pleased to report that the Evolve 1.9 model home at The South Meadow has achieved a HERS score of 57, meaning that it is over 40% more energy efficient than a new, code-built home, and over twice as efficient as a typical resale home. That's a significant cost savings that you can feel good about!
In addition to our standard building practices, HERS rating is available as an option on all Evolve Series homes at The South Meadow. Ask about it today, and stop by our South Meadow model home to learn more.
Click here to view the report and examine projected energy costs for our Evolve 1.9 home.
Click here to visit the Resnet website to learn more about the HERS rating system